Family pages/Slekter i Nordfjord
Vennligst varsle om feil - Please report faults.

Disse sidene innholder nå bare slektninger/familier knyttet til 9 generasjoner av mine rett oppadstigende aner. Databasen min inneholder imidlertid mange andre slekter fra Nordfjord, også mange stterkommere i Amerika og andre land. Jeg har valgt å redusere antall personer her på nettstedet mitt for å unngå at det kommer ut uønsket informasjon. Har du spørsmål om slekter i Nordfjord kan det godt være at det ligger noen i databasen min ettersom jeg i mange år har hjulpet andre med å finne slekt.

These pages contain family groups from my family records. The persons are now restricted to families associated with my direct ascendants. This is to avoid violating anybodys' privacy. I still do indeed have information of a lot of Nordfjord families, also of many of their descendants in America a.o., so don't hesitate to contact me.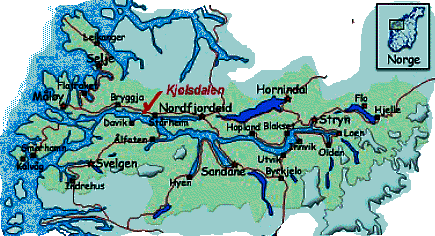 Pedigree file
---
Table of Contents
Surname List
Index of Names
Sources (Bibliography)
---
Contact Information
Send E-mail to post@kvien.net
Collected by Tor Kvien